Welcome to eSewingWorkshop.com - Sewing Courses Videos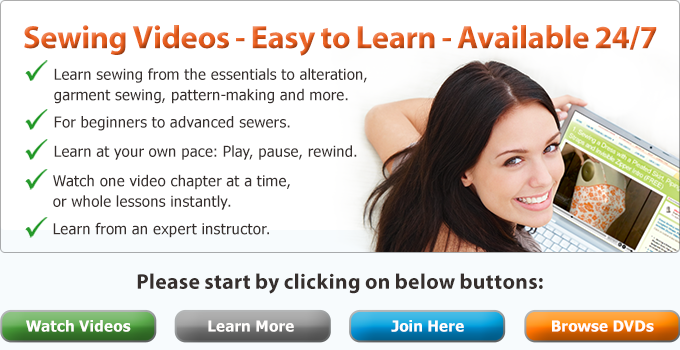 ---
Learn by a below category or browse all online videos by clicking here!
Watch unlimited anytime 24/7 with our detailed step by step online video sewing courses.
---
About Us

eSewingWorkshop.com is the first Online Video Learning Library for sewing, fashion design and handcraft!

Whether you are a beginner or advanced, or just want to brush up your sewing and fashion design skills, you can learn anytime and from anywhere in the world, on your own schedule and your place with eSewingWorkshop.com.

Individual Memberships

eSewingWorkshop.com produces hundreds of tutorials, invaluable training, inspiration and more to help you get the most out of your sewing. Don't just gain skills — gain confidence. To learn more please click here.

Multi-User Solutions

We also have a program ideal for any educator or institution that would like to offer online training access to a group of 5 or more users at a discount, by signing up in bulk. To learn more please contact us here.
Member Testimonials:
"Thank you for providing such a helpful and necessary resource. Now my young daughter and I can learn together, right here at home."
Kim - Chicago, Illinois
"I really do love that everything is so detailed and it is not assumed that the viewer is going to understand something, that is especially important to someone like me!"
Halle - Locust, N. Carolina
"I have been hemming pants for over 30 years and finally I now know the correct way. Thank you."
Volpen - Brampton, Ontario
---
Read more testimonials here.